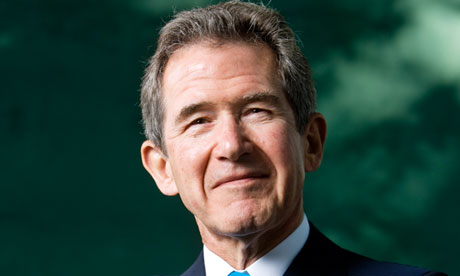 Lord Browne returns to the oil world of the Gulf of Mexico after his Riverstone Holdings bought 2m acres of oil and gas fields for $3.75bn. Photograph: Murdo Macleod
Lord Browne, who as chief executive of BP until 2007 was the architect of the oil group's dominance in the Gulf of Mexico, has made his return to the waters that were later polluted by millions of barrels of oil from the catastrophic Deepwater Horizon blowout in 2010.
Riverstone Holdings, a private equity group of which Browne is managing director, has spent $3.75bn (?2.5bn) buying oil and gas fields covering 2m acres off the coast of the southern states of the US. The deal, announced on Friday ,means Browne takes control of 133m barrels of oil reserves and 636bn cubic feet of gas, sold to Riverstone by Apache Corp in Houston.
Browne was unavailable for comment last night but his partner at Riverstone, John Lancaster, said: "This transaction is a unique opportunity to acquire a successful business of scale with a strong partner we know well and the proven professionals who have built this business over many years."
Browne's move back to the Gulf is the latest in a series of major oil industry deals he has engineered, while keeping a low profile personally. Cuadrilla Resources, the UK fracking company he chairs, last month signed a ?160m deal to search for shale gas in Britain with Centrica, the owner of British Gas, UK's biggest gas and electricity supplier.
Browne also remains a director of two other relatively small oil businesses, White Rose Energy Ventures and Fairfield Energy, as well as being a paid adviser to numerous blue chip companies, including management consultants Accenture, Deutsche Bank and oil and the gas technology group Schlumberger. His most prestigious role is as lead non-executive director inside the Cabinet Office, a powerful position among the group of businesspeople advising government departments.
Known during his time at the top of BP as the oil industry's "Sun King", Browne is still considered by many of his business peers to be one of the most dynamic executives of the age. But he remains dogged by the affair that brought his near-12-year reign to an end when he lied in the high court in 2007 in an attempt to protect his private life.
"John cannot stop wanting to be at the centre of things," said one friend. "It is like a writer's itch. He sees himself as a leader and strategist, but he was also awfully bruised by the court case.
"There is also a feeling that it would be possible for John to be chairman [of a high profile public business] but it could leave that company exposed if something blew up [legally], particularly in the US."
There has been recent speculation that Browne might be in the running to become chairman of Centrica when Sir Roger Carr stands down to chair the arms makerBAE in October. He is friendly with Centrica's dynamic chief executive, Sam Laidlaw, but he was previously tipped to become chairman of the National Grid and a director of Glencore two years ago.
Browne's friends believe that such media speculation has as much to do with mistaken information put about by headhunters as it does any wish on the oilman's behalf to lead another FTSE-100 group.
While he has yet to take a top-level role at a publicly listed company, Browne has other important roles outside business including chair of the Tate art galleries and president of the Royal Academy of Engineering, and was previously a trustee of the British Museum.
Browne made his name and reputation at BP, where his father had worked when it was still known as Anglo Persian Oil. Browne junior, born in Hamburg to a British father and Hungarian mother who had survived Auschwitz, joined BP in 1966 while still at Cambridge University studying physics. He took on a variety of roles, becoming head of exploration in 1989 and chief executive in 1995 after the government sold its remaining stake.
He created a reputation as a dynamic businessman, starting a wave of "mega-mergers" in the oil industry by buying Amoco in 1998 in a $48bn deal, followed in quick succession by Arco and Castrol.
Browne later went on to lead BP into Russia, with its ill-fated TNK tie-up, as well as creating a stir in environmental circles by rebranding the company using the title "beyond petroleum".
But the untouchable Sun King's reign began to unravel in a series of scandals and accidents in the US, with the Texas City fire, which killed 15 workers, followed by Alaskan pipeline spills and irregularities over proplyene trading.
The 65-year-old stepped down from BP six years ago in dramatic circumstances, having committed perjury as he fought a high court battle to keep his sex life private. Browne has made clear his regrets over the court case but has since gone on to speak openly about gay issues, arguing last month in the House of Lords that he backed same sex marriage legislation because openness was good for business.
A series of books on BP have blamed Browne for concentrating on acquisitions and cost-cutting rather than the nuts and bolts of the business, leading, some have said, to Texas City and eventually to the 2010 Deepwater Horizon blowout, in which 11 people died. Browne has always vehemently denied the charge, pointing out in a Newsweek article that the number of engineers employed by the company rose under his command.
His friends agree: "It's a bit much to blame John for something that happened three years after he left. The fact is that most senior business people still regard him very, very highly." To judge by his position as the most senior business figure in government, David Cameron does, too.
Source: http://www.guardian.co.uk/business/2013/jul/19/lord-browne-oil-returns-gulf-mexico
Tony Scott UFC 151 empire state building prince harry Hurricane hunger games Joey Kovar